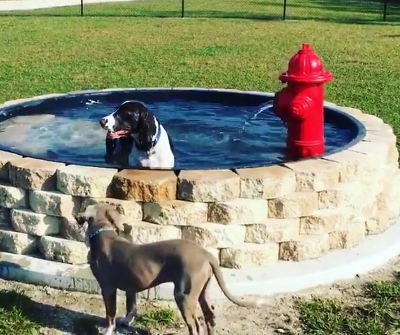 1) Extra water - Dehydration is one of your dog's biggest enemies in the summertime (for most of the same reasons that it affects humans). Buy a portable doggie dish and make sure that you bring extra water with you any time that that you plan to stay outside for a long period of time.
2) Avoid walking on hot surfaces like asphalt - Although your dog's paws are a bit rougher than your feet, they can still feel the heat coming off of hot surfaces in the summer. Since a dog's paws are one of the main parts of the body that a dog uses to cool itself, hot surfaces should be avoided.
3) Brush/groom your dog - Believe it or not, your dog's fur coat can help to keep it cool. When their hair becomes matted down, your dog won't be able to cool itself as easily.
4) Find out if your dog has a double coat - This means that shaving down your dog's hair would actually make it tougher for them to cool off. One of those layers of fur helps to insulate your dog from heat, just as it insulates them from the cold. You can find a list of dogs with double coats here - pets4homes.co.uk.
5) Doggy Pool - A dog's stomach and paws are the areas that a dog will use to cool itself the most, so jumping into a doggie pool can quickly cool your pooch off in the summer heat. We have a doggie pool at Cypress Trail that even has a fire hydrant for the K-9s to enjoy.
6) Morning and evening walks - This is when the temperature is coolest so this can be an ideal time to take your dog for a walk. The morning can be best because the sidewalks and street won't have been sitting in the sun all day yet.
7) Let your dog dig in the shade (they like the cool dirt). The dirt under the surface is cooler than the dirt that is on top. So when your dog goes digging, it is helping to cool his paws and in turn, the rest of the body.