Axal and Joint Lubrication
Routine maintenance can play a huge role in your motorhome's safety. Ensuring that all of the axals and joints are lubricated helps to prevent fires while traveling at highway speeds. Don't forget to lubricate your trailer axals as well. This is one of the most common mistakes that leads to RV fires.
Learn How to Handle a Tire Blowout
For example, although it may seem counterintuitive, if your right-front wheel suffers a rapid loss of air, the first thing that you need to do is increase the throttle a bit and steer to the left. This is because your RV wil get "pulled" to the right. Increasing the throttle removes weight from the blown-out tire and allows the driver to maintain control much easier. Once the vehicle is under control, you can begin to slow it down gradually.
Here is a great video that discusses the vehicle dynamics that apply to tire blowout scenarios...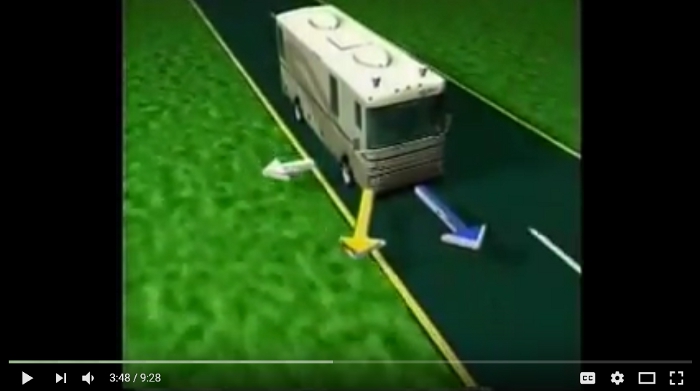 Drive On The Right, Pass On The Left
RVs naturally need to go a little slower than most vehicles, so you should be finding yourself in the right lane most of the time. Driving on the right allows for traffic to flow around you, and in many states, you can be ticketed for failing to get out of the way in the left lane. The right lane is often also going to have more pavement on each side of you because of the shoulder, and this can increase your safety margin by giving you more room.
Tire Inflation
Proper inflation helps to ensure that you get the best gas mileage and the best performance possible while driving your RV. However, the most important reason for you to check your tire pressures is to prevent tire blowouts.
Add Fish Eye Mirrors
Sometimes it's hard to get a full view of what's behind you in an RV. The newer models come with rear back up view cameras that can help you see what's behind you. The technology can greatly help you with backing up, in tight spaces with parking, and navigating your vehicle. Older models do not have this newer feature, so it's important to install little fish eye mirrors under your larger side view mirrors. These will give you extra peripheral vision behind you and on either side of your vehicle. They are also sometimes called "blind spot mirrors" when you purchase them on the aftermarket for your RV.
Maintain A Safe Following Distance
Your motorhome can't stop as fast as a car and it is important that you anticipate this increased stopping distance when you are driving. A "two second following distance" is normally appropriate in a regularly-sized vehicle. However, if you are driving a motorhome behind a car that can stop much faster than you, you may want to increase your following distance even more in order to give you time to stop and/or react to any hazards that occur in front of you.
Know Your RV's Height
You don't want to get caught smacking the top of your RV on an overpass, tunnel, or parking garage. That's a seriously dangerous situation for you and those around you on the roadway. Don't take chances with height issues, or width issues for that matter. Not unless you enjoy making calls to file claims with your insurance company. Your GPS system will tell you in advance if there are roadways coming up that you can't safely travel on when you are driving your mobile home, or travel trailer.
Buy a Safety Slide
The emergency inflatable slide that you see at the top of this article is made by slidetosafety.com. This is designed to give you an easier escape path if you wake up to a fire in the front of your motorhome and need to go out the window.
Think About Taking An RV Driver Training Course
This is a smart idea especially for the newbie RV owner. There are many accredited schools around the country that will give you all the basic and advanced skills you need to operate your motorhome. It's a worthwhile investment to make when you can gain considerable driving ability, making you and your family safer in the process. RV Basic Training offers various "boot camps" around the country at RV shows and will even come to you to train for travel and course fees. They promise to make you "drive with confidence" in your new RV vehicle.