The Centurylink Sports Complex For The Minnesota Twins
This sports complex is the spring training home of the Minnesota Twins, who are going into their 27th season playing there. The field itself is called Hammond Stadium, with seating for 9,300 sports fans. It was built back in 1991, but was recently renovated in 2015. Your experience at Hammond Stadium is located at 14100 Six Mile Cypress Parkway, right in Fort Myers. It's only a 17 minute drive up I-75 to get there quickly.
This is a terrific place to take the whole family, especially if the grandkids are going to be coming for a visit. Who doesn't love a day watching their favorite players take the mound? The spring training schedule is located here at MLB.com, so you can plan out which games you want to pre-purchase tickets for.
Food at the stadium is top notch, and you don't want to miss their "Carolina Dog", pulled pork sandwiches, or the "Richard Simmons" burger. Either way with all the tasty food offered, you won't leave hungry. There is also an ample supply of draft beers, concession soda pop, and other foods to nibble on. You can't bring in your own food or beverages to this facility.
JetBlue Park For The Boston Red Sox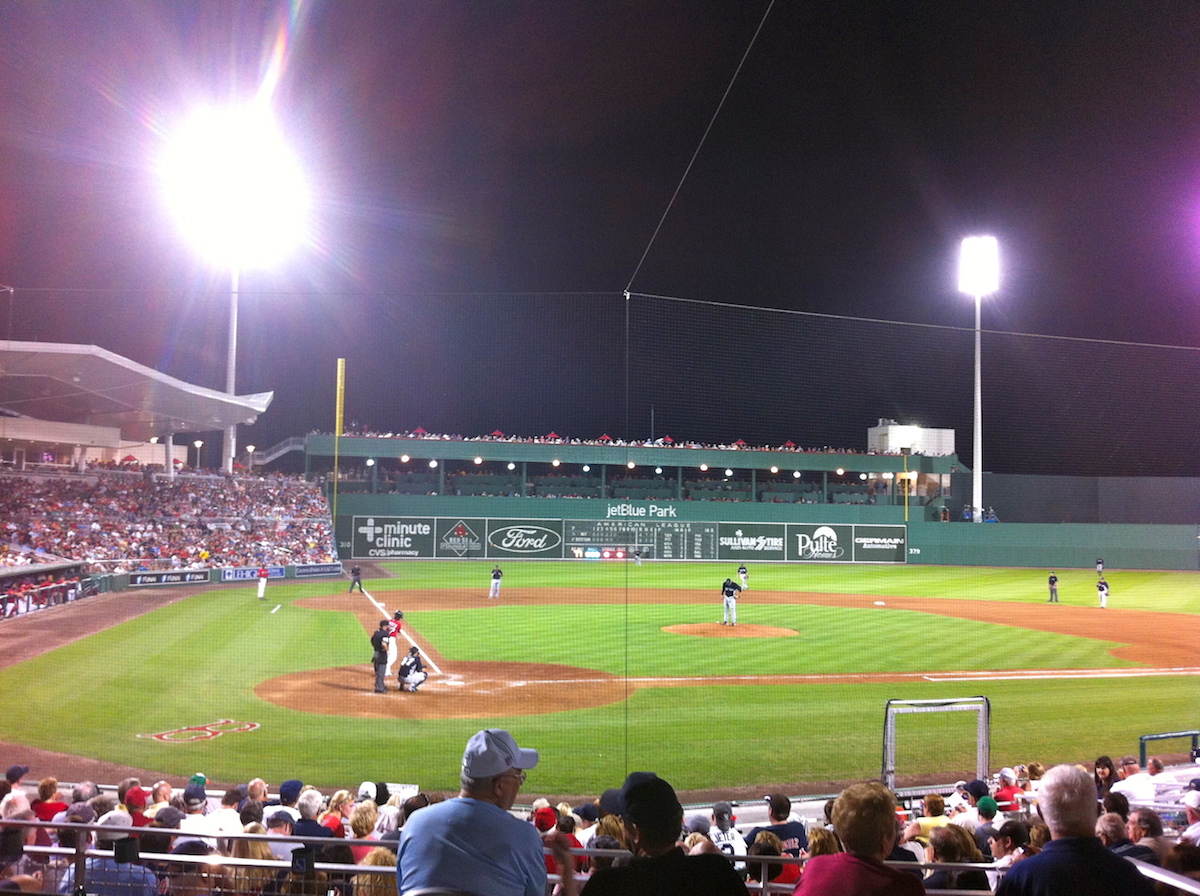 Only 16 minutes away from the Cypress RV Resort is the spring training home of the Boston Red Sox at 11581 Daniels Parkway in Fort Myers. This facility is the JetBlue Park and the stadium itself is called lovingly "Fenway South" in honor of their regular famed facility back in Boston.
Fenway South even has its own 211-foot green wall, just like the "Green Monster" back at home. This brand new facility has only been home to spring training for the team since 2012. The amenities at this place are spectacular. You're going to love bringing your family here for a few games during pre-season. The schedule is also located at MLB.com. When you go, make sure you sample the "Fenway Frank" because it's the exact one that is offered at the concession stands of Fenway stadium. As with most facilities nowadays, no outside food or drink is allowed in.
Make your plans now for day trips to either stadium, so you can go directly from the Cypress Trail to the park. After such an exciting baseball season last year, you are going to want to purchase your tickets early to get the best seats available in February and March.