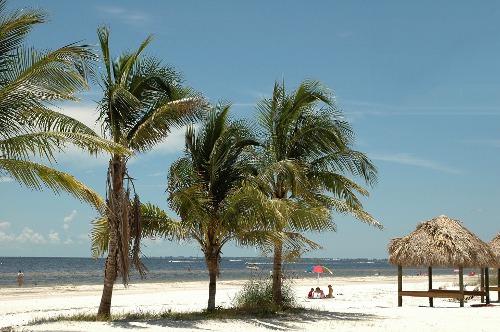 Fort Myers Beach
Just about 24 miles southwest of Cypress Trail RV Resort is Fort Myers Beach. This oasis is situated on Estero Island, and offers seven miles of beach access. After you're finished enjoying the view of the Gulf Coast, refresh yourself at the Outrigger Beach Resort's Tiki Bar for an evening cocktail and meal. Stroll beneath the stars at Times Square, an outdoor shopping and dining pedestrian area.
Dog Beach Park at Fort Myers Beach
Just before the foot of the bridge on the west side is Dog Beach Park, where your pooch is allowed to roam free. It's open from 7 a.m. to dusk. There's free parking. Showers are on site to rinse off Fido before heading back on the road.
The Beaches of Sanibel Island
Take I-75 south and veer west to visit Sanibel Island across the gulf from Fort Myers Beach. Sanibel is a vacation destination, visited by vacationers from around the world. Even before you reach Sanibel, you'll be able to appreciate the water views on both sides as you drive over the Sanibel Causeway. Be prepared to stop and pay a small toll. On Sanibel Island, you'll be amazed at the laid-back atmosphere and relaxed environment.
Lighthouse Beach & Fishing Pier, Sanibel Island Captiva Islands
Visit a real, functioning lighthouse. The lighthouse is on the eastern tip of Sanibel island. Here, you'll find a fishing pier, as well as a winding boardwalk nature trail through the wetlands. Restrooms are available on-site, as well as an outdoor shower to rinse off the sand when you're ready to hit the trails again. RV parking is available for a small fee.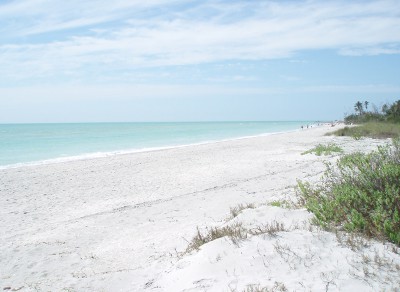 Gulfside City Park, Sanibel Island
This secluded beach and park offers shade and picnic tables with outdoor BBQ grills for dining al fresco. Outdoor showers and restrooms are on-site. Reach it via Algiers Lane off Casa Ybel Road.
Tarpon Beach, Sanibel Island
Tarpon Beach has easily accessible parking for your RV. The parking lot is only steps away from the beach at the south end of Tarpon Bay Road. Amenities included outdoor showers and restrooms.
Bowman's Beach, Sanibel Island
With your RV, you won't have any problems at Bowman's Beach, where there are no hotels or motels. This pristine beach is so quiet, you might have had a hard time believing it's there. Just park your RV and stroll over a short bridge to a secluded, powder white beach. The spot has outdoor showers and even a BBQ grill for cooking. Turn left on Bowman's Beach Road and you're there. There's plenty of space available for your RV in the parking lot. Once settled, there is hiking available on a nature trails, and a small boat launch for canoes and kayaks.
Blind Pass Beach, Sanibel Island
Blind Pass Beach is popular with shell hunters and fishermen. Swimming is not recommended due to the strong currents. No restroom availability on the Sanibel side, but you can park on both sides of Blind Pass Bridge. On the Captiva side of the bridges, you'll have access to restrooms and an outdoor shower.
The Beaches of Captiva Island
Keep driving west and north, and you'll eventually land on Captiva Island. All told, it's about an hour and 16 minutes from the Cypress Trail RV Resort to the tip of Captiva Island. Here, you have a view that not many people have been able to enjoy, and it's an experience you'll never forget.
Captiva Beach, Captiva Island
Captiva Beach is a romantic spot to watch the sunset, with the feeling that you're on the edge of the world. Port-a-potties are on-site, but there is no grilling allowed. The parking lot is very small and limited.
Alison Hagerup Beach, Captiva Island
Situated at the northernmost point on Captiva Island, Alison Hagerup Beach is a hidden gem where you and your family can enjoy some of the most satisfactory shell hunting on all of the island. The parking is limited, and only portable bathrooms are available, but this stop is a must on your tour of the best beaches near Cypress Trail RV Resort.