Remember when you were a kid and you enthusiastically told your friends, "And some day, you'll be able to take a vacation in outer space!"
And they all laughed. Hard.
Guess what? The last laugh may be yours. The day of getting your kicks in space, if not on Jupiter and Mars, isn't far off. You can learn a lot about private spaceflight by visiting the Kennedy Space Center on Merritt Island, just north of Cape Canaveral and an hour east of Orlando. All U.S. government manned space flights have been launched from Cape Canaveral, including trips to the moon. If you time it right, you can even watch—just as you envisioned—private space flights being launched.
So far, private SpaceX flights are unmanned, but today's launches and spacecraft recoveries—even the rockets will be reused—are all leading to the day when you'll park the RV, prepare for spaceflight and take off. Boeing is partnering with SpaceX to resume human space flight launches from the Cape.
Kennedy Space Center is about a 3½ hours' drive from Cypress Trail RV Resort, regardless of the route you choose.
Watch a Launch
Privately owned SpaceX, headed by Elon Musk, launches fights from the government facility periodically. And NASA still launches there, too, as it did March 1 by sending a weather satellite into orbit. Check online for the launch schedule. Another launch is planned for an undetermined date in March.
Private SpaceX Falcon 9 launches are scheduled for April 2 and April 16. SpaceX intends to launch a government-sponsored crewed flight to the International Space Station some time this year. It would be the first crewed spaceflight launched from the U.S. since the last Space Shuttle flight in 2011.
Even if you visit on a day with no launch planned, there's still plenty to do and see, in
cluding interactive exhibits.
Meet Astronauts
Until those private space flights arrive, astronauts are still a pretty exclusive club.
NASA schedules appearances by U.S. astronauts throughout the year. Visitors can take a tour with the astronauts, hear th
em speak and have lunch with them. To s
ee who is appearing and on what dates, check the events schedule.
U.S. Astronaut Hall of Fame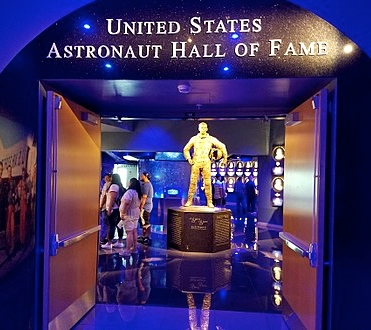 The U.S. Astronaut Hall of Fame, on the grounds of the Kennedy Space Center, enshrines the original U.S. astronauts, the Mercury 7, and more than 80 others. Among them are the late Alan Shepard, the first American in space, and the late John Glenn, the first American to orbit the Earth. A statue of Shepard stands at the entrance.
If you're a golfer, imagine how far you could hit a golf ball on the moon, where gravity is lower. Shepard, who was known for his mischievous sense of humor, didn't imagine; he actually did it. That was some sand trap. Other Hall of Fame members include the late Neil Armstrong, the first person to set foot on the moon, and the late Sally Ride ("Ride, Sally, ride!"), the first American woman in space.
On April 21, two more astronauts will bring total membership in the hall to 95: Dr. Thomas D. Jones and Capt. Scott D. Altman. Tickets will become available. Check the events schedule.
Admission: $50 per day/adults; $40/children age 12 and over; $46/military adult age 12 and over; $37 military child 3-11 years; $46/seniors 55 and over. One-year unlimited admission, $75/12 and over; $6
0/children 3-11.