If your favorite song is "The V8 Candy Color Sapphire Blues," here's good news: Many West Coast Florida car shows are easily reached from Cypress Trail Luxury RV Resort. (Disclaimer: There's really no such song, but there oughta be.)
If you go to a custom hot rod or street rod show, you're likely to get the blues only when you think about your first car, or the best car in the neighborhood that some kid down the street was lucky enough to own. Or maybe you'll just remember everybody crammed into the car with you back in the day
Different Types, Varying Appeal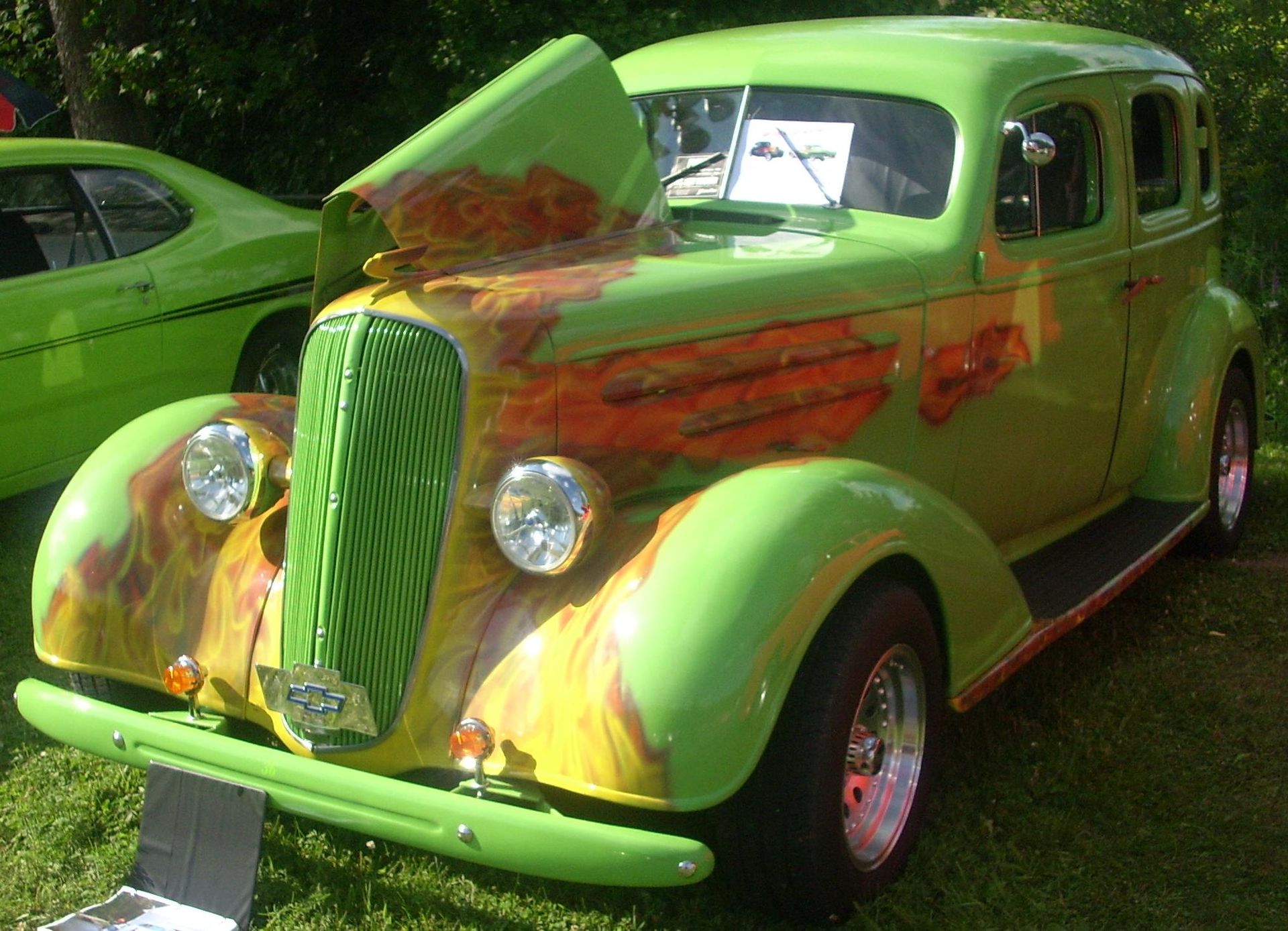 You run into one or another of six kinds of cars at shows:
Hot Rods. Manufactured between 1920 and 1948, hot rods are typically a Ford or Chevrolet but may be another brand, with heavily modified or replaced engines, suspensions, transmissions, interiors and bodies. Emphasis: Power, polished looks.
Rat Rods. Like hot rods, rat rods have heavy modifications, including chopped (lowered) roofs, but often have an unfinished look—sometimes they are made to look even more beaten than they are, with paint that's flat, not glossy. Parts are often from cannibalized cars that are different makes and models, then made to fit. Emphasis: Ratty appearance.
Street Rods. These older cars are also highly customized and powerful, with comfort and reliability more the order than racing. They are likely to have air-conditioning, power accessories, and modern cooling systems. A lot of Fifties cars, such as the '55 and '57 Chevy, might fall into this group. Emphasis: Cruising in comfort and style.
Muscle Cars. Dating to the Sixties, starting with the Pontiac GTO, muscle cars expanded rapidly to fill the demand of the post-WWII Baby Boomers. Examples: Ford Mustang, Chevrolet Camaro, Chevelle and Nova, Olds 442, Plymouth Roadrunner and Barracuda, Dodge Charger. Emphasis: Style, speed.
Tuner Cars. These are the custom cars of today's youth. Volkswagens and Audis figure prominently, along with BMW, Mitsubishi, Toyota, Nissan, Honda and other brands. Horsepower modifications are prodigious, often through electronic programming and turbocharging small four-cylinder engines. A loud free-flow exhaust is almost a requirement, but so is a killer sound system. Emphasis: Power, electronics.
Classic Cars. Usually 30 years old or more, classics are maintained in or restored to original condition. Prized examples would include Corvettes, MGs, Triumphs, Packards, Deusenbergs, and full-size Detroit-made convertibles. Emphasis: Original condition.
A few shows also display motorcycles.
West Coast Florida Shows
Here are just some car showcases:
NSRA Southeast Street Car Nationals. April 6-8, Florida State Fairgrounds, Tampa. Cars and trucks 30 years and older. More than 1,400 vehicles on display.
Jaguar Concours d'Elegance. April 15, 7 a.m.-5 p.m., Port Charlotte Conference Center. Nothing but Jags, some of the most beautiful carts ever created.
The Villages Special Cruisers. Third Saturday of every month, The Villages, where Lake, Marion and Sumter counties intersect along Routes 301 and 441. Classics, rods, muscle cars.
Dupont Carts & Coffee. Every third Wednesday at the duPont Car Registry headquarters, 3051 Tech Drive, St. Petersburg. Exotic cars and super cars, all in the duPont Registry.
Car shows vary considerably. Lance's Cruisin' to the Hop is a series featuring cars and music. Caffeine and Classics enables you to browse some of the most desirable consignment cars around at the Streetside Classics indoor dealership in Tampa. Find those events and many others at FLAcarshows.com. The site's event calendar lists shows by day and month in a simple click-the-date format.