Pensacola Naval Air Station is host to the National Naval Aviation Museum, the world's biggest naval flight museum. The museum's displays ably demonstrate that that since the World Wars, the modern Navy's place is as much in the air as on and under the sea.
Don't think that all you'll do is see a bunch of airplanes in and outside a big building, although you will see plenty—historically important propeller-driven and jet aircraft. Many are restored versions of planes that served combat roles in WWII, Korea and Vietnam. Carrier planes, land-based planes, seaplanes—they're all represented.
If you get there early enough you may catch the Blue Angels aerobatics team in flight during one of the pilots' practice runs.
Want to take your turn flying a Naval jet? An ultra-realistic flight simulator lets you experience flight without leaving your seat.
Have you ever seen Marine One—the president's helicopter? One of the former presidential flying taxis is on display. So is a restored version of the World War II fighter plane flown by former President George H.W. Bush, who had been the youngest commissioned combat pilot in the war.
A 300-plus seat giant-screen theater offers movies on flight, carriers, the Marine Corps and spaceflight. (Fee: $8 teens, $9 adults.)
The naval air museum is a day's drive from Cypress Trail RV Resort. NOTE: Access to visitors who do not have a Department of Defense ID card is through the Naval Air Station Pensacola West Gate off Blue Angel Parkway (1878 S Blue Angel Pkwy).
Some National Naval Aviation Museum highlights:
Blue Angels Practice Flights
Here's where Blue Angels pilots perfect their precision air shows. These days, the Angels are flying F/A-18 Hornets in a four-jet diamond formation and with two solo pilots. You must arrive before 9:30 a.m. to have any hope of seeing a practice run. And the museum warns that practice runs may be canceled at any time. There is no charge to see the flights.
Blue Angels 4D Experience
If you don't see the Blue Angels fly live, see them in the Blue Angels 4D Experience. Special effects are built into the theater, not just shown onscreen, and synchronized to give audience members an immersive experience. You'll feel like you're flying in formation—not bad for $7.
Flight Simulators
Ever wonder what it feels like to do a barrel roll in a fighter jet? To climb almost straight up? To perform high-speed maneuvers? You'll find out on a museum flight simulator. This high-tech marvel simulates combat flight with six directions of movement, high-definition imagery and surround sound. Your video games can't begin to rise to this level of entertainment and involvement. (Fee: $20)
Huge, Realistic Ship Models
No, the USS Gerald Ford's flight deck will not fit in the museum. But there's a huge scale model of the carrier—and models of many others—that help you appreciate life aboard these floating cities.
Naval Aircraft of All Eras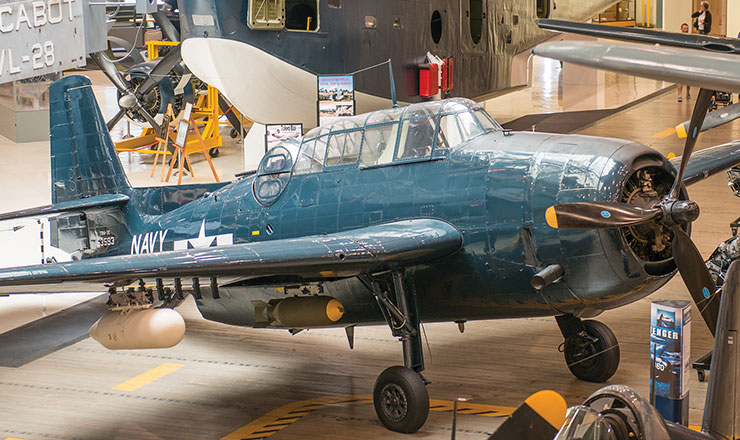 There's a hulking World War I-era bi-winged seaplane that crossed the Atlantic. Fighters and dive-bombers of World War II carrier fame live on. You'll also find jet fighters and bombers that flew over Vietnam and Iraq.
Among the aircraft displayed:
F6F Hellcat, the World War II fighter that outflew the Japanese Zero.
TBM Avenger, the type of plane former President George H.W. Bush piloted during WWII.
B-25 Mitchell bomber, the land-based twin-engine plane pressed into carrier duty early in WWII to bomb Tokyo.
A4 Skyhawk, the jet eventual presidential candidate John McCain flew when he was shot down over Hanoi.
A7 Corsair II, the jet that flew bombing runs and close support for troops in Vietnam and Desert Storm.
National Naval Aviation Museum
1878 S Blue Angel Pkwy
NAS Pensacola, FL 32508
Admission: Free (charges for some individual attractions $7-$20).
NOTE: Arrive early! Once the visitor parking lot by this entrance is full—often by 9:30 a.m.—no more general public (people without Department of Defense ID or who are not accompanying a person with an ID) is admitted for the day.
All photos courtesy of

National Naval Aviation Museum