Southwest Florida occupies the southwestern Gulf Coast of the Sunshine State from Sarasota south to Naples. It contains the five-county area of Lee (Fort Myers-Cape Coral), Collier (Naples-Marco Island), Charlotte (Punta Gorda-Port Charlotte), Hendry (LaBelle-Clewiston) and Glades (Moore Haven) counties. The focal point of our area is Lee County-Fort Myers (leegov.com), in which Cypress Trail RV Resort is located and offers a piece of vacation paradise to you.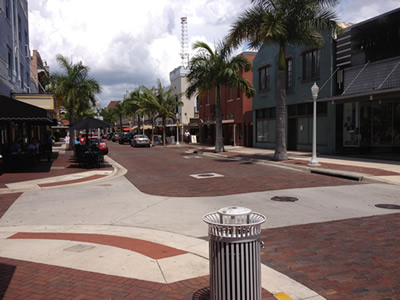 Long known for its sparkling beaches, scenic wildlife and easy lifestyle, Southwest Florida is now also known for being one of the fastest growing areas in the nation – both in terms of population growth and business development.
Southwest Florida has had a long and interesting chronology involving Indian warriors, Spanish conquistadors and marauding pirates. Each found the unspoiled Gulf waters and magnificent wildlife of the area as irresistible as today's residents.
Modern Southwest Florida, however, has made its mark in attracting a variety of visitors. In fact, Lee County's most famous tourist became a resident for the same reasons our area continues to draw thousands each year–excellent weather, a good economy, wonderful beaches and friendly citizens (fortmyers-sanibel.com).
Thomas Edison's Seminole Lodge
Thomas Alva Edison first visited Lee County during the winter of 1885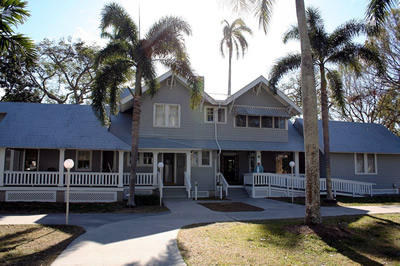 when health reasons forced him to seek a warmer climate. The famous inventor was so taken with the area that he established his winter home, laboratory and experimental gardens on the Caloosahatchee River in Fort Myers, also known as "The City of Palms."
Now a city landmark, Edison's "Seminole Lodge" compound, and that of his next door friend Henry Ford, is open year-round to visitors from throughout the world (edisonfordwinterestates.org). The annual Edison Pageant of Lights Parade held each February is a tribute to the man who brought us the
"Fordwinterhome2006" by Rolf Müller (User:Rolfmueller) - Own work. Licensed under CC BY-SA 3.0 via Commons -electric light bulb, among his many inventions. Begun in 1938, the event is now one of the largest nighttime parades in the country.
Cypress Trail RV Resort is conveniently located east of I-75 only minutes from Exit 139 (Luckett Road), and is just a few miles from historical downtown Fort Myers where extensive shopping and dining opportunities abound. In fact, the city has just completed a multimillion-dollar downtown revitalization project that features cobblestone streets, enhanced lighting and a variety of new restaurants for nighttime fun.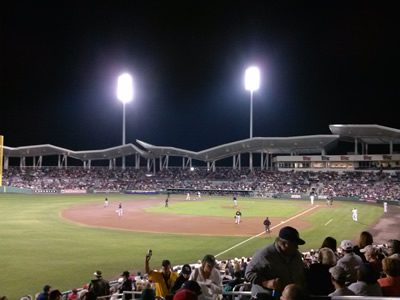 Baseball Spring Training
For baseball/sports fans, our area boasts two major league teams during the winter training season. The Boston Red Sox recently relocated to their new state-of-the-art stadium complex, Jet Blue Park/Fenway South, which is just south of Cypress Trail at I-75 Exit 131 (Daniels Parkway) east. At the same exit, but to the west, The Minneapolis-St. Paul Twins train at the Century Link Sports Complex along with their minor league team, the Fort Myers Miracle.
Shopping
A world of shopping awaits you as well from your home at Cypress Trail. At I-75 exit 136 (Colonial Boulevard), The Forum Shops offers a variety of shopping and dining experiences. Farther south at I-75 exit 128 (Alico Road), you can go east to visit the huge new Gulf Coast Town Center. And, just south at I-75 exit 123 (Corkscrew Road), you'll find Miromar Outlet Mall and International Design Center to the east, while west at U.S. 41 is the exciting new Coconut Point Mall.
For the Gamblers
And, it's a winning bet that you'll love the excitement waiting you at the Naples-Fort Myers Greyhound Track (naplesfortmyersdogs.com) in Bonita Springs at I-75, exit 116. Besides daily dog races, the track now offers a variety of Vegas-style poker games and restaurants.
Beaches and Wildlife
If relaxing/shelling on a tropical island is what you're seeking, visit Sanibel/Captiva islands (sanibel-captiva.org). Only accessible via a toll-bridge causeway, the adjoining islands are known worldwide for their magnificent shelling and unspoiled natural beauty. Almost half of Sanibel Island is a nature preserve, including the famous J.N. "Ding" Darling National Wildlife Refuge where visitors can see up close a myriad of birds, alligators and other native wildlife in their natural habitat.
And besides access via Interstate 75, the growing Southwest Florida International Airport provides national and international travel possibilities and is just nine miles south along I-75 at exit 131. The world-famous Everglades National Park is just a drive south along the interstate from which you can also visit glamorous Naples.
Additionally, the resort is convenient to Florida Gulf Coast University (exit 128) and Florida Southwestern College (formerly known as Edison State,) (exit 131), the site of the marvelous Barbara B. Mann Performing Arts Center where everything from orchestra concerts to Broadway plays are held.